For those about to muck
Vi spelar på blinds 200 / 400 med ante 50, och knappen säger 900. Sofia Lövgren på small blind slår om till 3200 och får syn. Floppen kommer 28T med två spader. Sofia säger 4000 och får ny syn. Turn är en blank tvåa och bägge spelarna checkar. På river kommer en spaderfemma för färgdraget. Sofia satsar 7500 och får syn. När Sofia vänder upp två knektar kastar motspelaren sin hand i mucken, och Sofia är uppe på cirka 75 000.
Något senare öppnar Sofia till 1000 och får syn av både knapp och bägge blindsen. Floppen kommer 952 och small blind leder ut 2100. Fold av big blind, syn av Sofia. Fold av knapp. Turn är ännu en nia. Small blind satsar åter 2100 och får ny syn. River är en sexa. Small blind säger 4200. Sofia slår om till 12 000. Motspelaren går in i tanken en stund, men synar sedan. Sofia visar K9s för triss och får potten utan att motspelaren visar korten. Sofia Lövgren sitter nu med 96 000 framför sig.
Fredrik Norström konstaterade för en stund sedan att bordet kändes rätt tufft, och att det var en handfull motståndare som verkligen kunde spela. Han har stretat något under startstack, och har nu tappat ner till cirka 20 000. Det är dock fortfarande omkring 50 big blinds, så ingen ko på isen där än så länge. 
Några övriga counts i urval:
Niklas Åstedt, 110 000
Tobias Garp, 101 000
Jerry Ödeen, 84 000
Thomas Arvidsson, 82 000
Kent Lundmark, 72 000
Anton Bertilsson, 33 000
Daniel Erlandsson, 32 000
Emil Mattsson, 27 000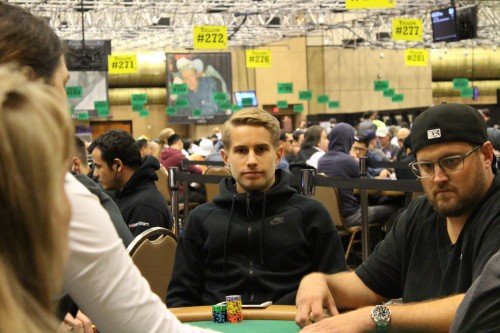 Alexander Roumeliotis spelar numera ytterst sparsamt, utan lägger merparten av tiden på att studera istället. För inte alls så många år sedan var han dock både fruktad och respekterad av den yttersta världseliten i NLH 6-max cash game, och när han gav sig in i turneringspoker levererade han en samling mycket imponerande turneringsresultat under nicket Sussie Smith. Bland dessa märks till exempel två titlar i världens mest prestigefulla turneringsserie online, SCOOP.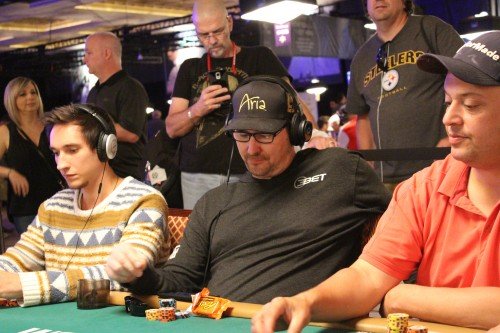 Sett till popularitet bland railare befinner sig Phil Hellmuth på en nivå bara ett handfull andra spelare i världen kan mäta sig med; två av de i samma liga spelar idag - Phil Ivey och Daniel Negreanu. Möjligen finns även Viktor Blom och Doyle Brunson där.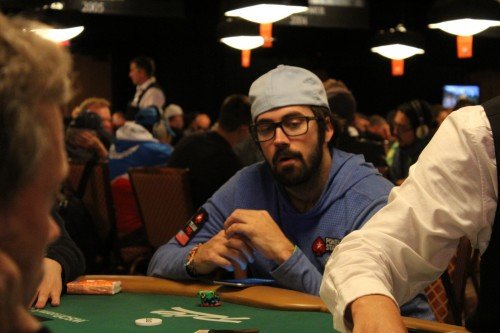 Jason Mercier har tagit hem två vinnararmband hittills i årets World Series of Poker, och har en stor ledning i kampen om vem som tar hem spelarrankingen i WSOP 2016.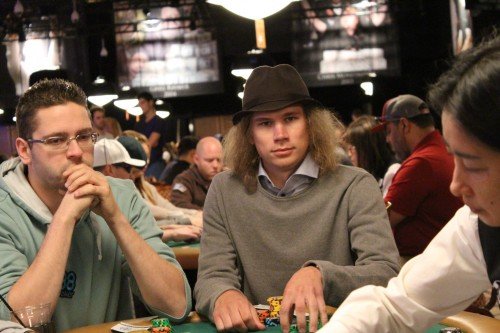 Gävlesonen Simon Löfberg har inte allt för många år på den internationella pokerscenen i ryggen, men är en erkänt duktig PLO-spelare som också behärskar turneringspoker i Texasform finfint. I våras kom han tvåa i Spring Poker Week på Casino Cosmopol i Göteborg. Simon Löfberg har just nu cirka 52 000 i marker.
I can just imagine @RealKidPoker just laughing at me busting the Main Event every year saying "stupid crazy internet kids" #LOL #LUL

— Randy Lew (@nanonoko) July 12, 2016